The term "liberal" originally stemmed from the human quest for free inquiry and the study of the liberal arts. Aristotle explained that the greatest pleasure a free man could possess is to have the economic means to indulge himself in the study of nature, books, science (philosophy) — and the liberals arts, rather than to be forced to labor endlessly with no free time for leisure and the contemplation of life.
Liberal persons (e.g., philosophers, teachers, citizens, politicians) used to refer to those who engaged in free discourse, the free exchange of ideas, tolerance of other points of view (without necessarily approving of those views), personal autonomy, minimalist government with personal liberty, freedom to pursue happiness, health, occupation, and life in general. The ancient form of "liberalism" virtually disappeared with the Dark Ages.(1)
The Classical Liberals awoke from the slumber of antiquity during the Enlightenment and the Age of Reason with the writings of John Locke, Sir Edward Coke, David Hume, Adam Smith, Richard Steele, Joseph Addison, etc., and reached a climax of political influence in the 18th and 19th centuries in Great Britain with the ascendancy of MPs (and subsequently PMs) Charles James Fox and William Gladstone, and in France with the physiocrats, i.e., A.R.J. Turgot, Marquis de Condorcet, and the intellectual giants: Baron de Montesquieu (1689-1755) and Frederic Bastiat (1801-1850).
Today, the term Liberalism has been hijacked and subsequently transmogrified in stages — utilitarianism, social welfarism, social liberalism, and finally and to speak more plainly, socialism.And, unfortunately, it appears that there is no turning back.
A similar process has occurred with the term progressivism, a curious but well-calculated term intended to deceive and confuse the concept of advancement in civilization with the attainment of political goals (socialism) — as if socialism was real progress in the path of history.
And yet, as V. I. Lenin wrote, the dialectical materialism of socialism is "one step forward and two steps backward"!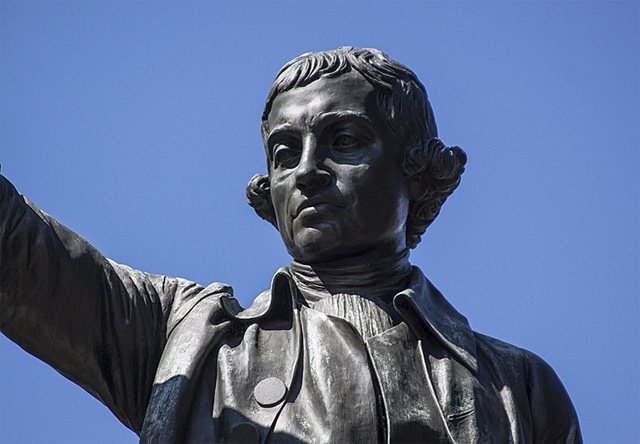 British statesman Edmund Burke (1729-1797; photo, left), a father of modern conservatism, ended his long time friendship with Charles James Fox (1749-1806), when the latter as MP not only defended the ideals of the French Revolution but finally appeared to be more of a social liberal than a classical liberal. (These are my words, but they plainly describe the historical facts.) This final philosophical somersault took place in the latter half of the 19th century (i.e., sometime after Karl Marx and Friedrich Engel published their Communist Manifesto in 1848).
And so the Liberal Party of the true Classical Liberals died more or less with William Gladstone, and in its place was born the British Labor Party of modern liberalism, essentially striving not just for better labor conditions, but increasingly toward wealth redistribution and socialism, and the abandonment of liberty and laissez faire capitalism.(2)
In the USA, where the Industrial Revolution wrought gigantic steps in real economic progress and improvements in the standard of living for all, faux "progress" (socialism) came a bit later and largely in the 20th century (and in minuscule doses) until the presidency of FDR.(3)
Arrange it or explain it any way you wish, today's knowledgeable conservatives are largely the former Classical Liberals; and today's social liberals are knowledgeable socialists, big government democrats, or "liberal" Democrats.
Classical Liberals believed in free trade, less taxation, minimalist government, freedom of religion, personal freedom, republican and constitutional principles of government, laissez faire economics, noblesse oblige, an informed electorate, freedom with responsibility, etc.
The term "liberal" has been perverted today to mean the opposite of what it once meant, and even dictionaries have not been able to keep up with the political transformation of the term.
Who are the modern political liberals in the USA? They are those who want more government; more rules and regulations to control the lives and businesses of others; more taxation for the redistribution of wealth; the yielding of sovereignty to a godless, corrupt United Nations at the expense of their own country; banning religion from secular life; maximalist government control to enforce "equality" — but where some are still more equal than others, particularly themselves as the elite, "liberal" impostors.
They want to control the lives of others and ban any pleasure they deem offensive or unhealthy for the rest of us. They are authoritarians. We must call them modern liberals, collectivists, progressives, socialists, but they are not classical liberals who believed in freedom.(4)
Conservatives and Objectivists are today's Classical Liberals, and they are best (although admittedly imperfectly) represented by the GOP. The alternative is the overt, left-wing, big-government, authoritarian socialism of the U.S. Democratic Party!
In summation, Classical liberalism = Modern Conservatism; Modern liberalism = Socialism
References
1) Faria MA. Vandals at the Gates of Medicine: Historic Perspectives on the Battle Over Health Care Reform. Hacienda Publishing, Inc., Macon, GA, 1995.
2) Faria MA. The Political Spectrum (Part II) — The Center: A Democracy or a Constitutional Republc? Hacienda Publishing, October 14, 2011
3) Faria MA.A Brief History of Socialism in America. Hacienda Publishing, September 28, 2011.
4) Faria MA. The Political Spectrum (Part I): The Totalitarian Left From Communism to Social Democracy. Hacienda Publishing, September 28, 2011.
Written by Dr. Miguel A. Faria
This article may be cited as Faria MA. Classical Liberalism vs Modern Liberalism (Socialism) — A Primer. HaciendaPublishing.com, May 21, 2012. Available from: https://haciendapublishing.com/classical-liberalism-vs-modern-liberalism-socialism–a-primer-by-miguel-a-faria-md/
First published on March 21, 2012
Copyright © 2012-2019 Miguel A. Faria, Jr. M.D.