Mortality and Faith: Reflections on a Journey through Time (2019) by conservative writer and patriot, David Horowitz, is the sequel to one of my favorite autobiographical books, Radical Son: A Generational Odyssey (1997), a personal and political odyssey that transformed him from a left-wing radical to an intellectual leader of the conservative movement. Horowitz's life reminds me of another great author and lesser-known writer and patriot, the Cuban communist-turned-freedom fighter, Guillermo Cabrera Infante, (Mea Cuba). They have significant parallels but fortune smiled on Horowitz more than she did on Cabrera Infante. Be that as it may, I have been hoping and waiting for Horowitz's sequel for years — and it's finally here! It is another great piece of literature!
Mortality and Faith: Reflections on a Journey through Time is, like Radical Son, eloquently written with even more passion and introspection. Horowitz's brilliant turn of phrases and words selected for precision in the nuances of language remain. Brilliance, clarity, and forceful language stand out as part of his eloquent prose.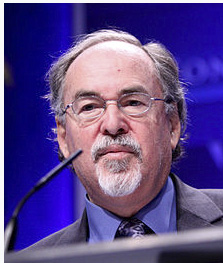 In another masterpiece, Radicals — Portraits of a Destructive Passion (2012), Horowitz made astute observations about how the mind of radicals work. In Mortality and Faith, as he reaches his 80th birthday, Horowitz analyzes his own mind, the fateful decisions he has taken, his life, and his mortality. He also examines the trials and tribulations that we all will face as we approach the twilight of our lives — the ravages of disease and aging, which he faces with courage and with the loving assistance of his beautiful and devoted wife April.
The book also recounts human-interest stories of David's immediate family of whom he is so proud, although none of them could be called ideological or even political. Two of his children, Jonathan and Benjamin, became very successful in their respective careers: Jonathan in the music world; Ben in business enterprises, even being featured on the cover of Fortune magazine in 2014. David is intensely proud of all four of his children and his stepson, Jon. David writes proudly of his entrepreneurial son Ben, who has climbed the top of the ladder of the business world, wrote a book on business highly celebrated by the likes of Rupert Murdoch, and heads a $4.3 billion company. Praising his son, David seems to regret not only his revolutionary path to the left, but also taking his political road on the right as a conservative. Seemingly with regrets, David writes, "Reading his book made me marvel at the differences between him and his old man. For I was driven — one might say obsessively — by a mission that blinded me to many things at the periphery of my sight." But it was Horowitz's mission to preserve liberty and combat evil, that allowed his children to attain success in the music world, in free market capitalism, and in the case of his deceased daughter Sarah in altruism and religion, and in the case of Anne in her independent path to pursue happiness.
An important message in this book is that we should get off the turntable of life, when we act and do things almost without thinking about the good things in life — i.e., families, children, vacations, or just plain contemplation. We take life for granted. Once in a while we need to get off the turntable and savor life and recollect the moments — the good moments that will soon be gone and cannot be retraced! When death knocks at one's door there are no second chances.
But Horowitz (photo, left) should be well satisfied. He has examined and found a life in which he remained true to himself, despite the untoward repercussions that he expected and received. He savored and contemplated life — the good moments as well as the bad. All in all, Horowitz lived (and lives) a good life worth living, fighting for liberty and conservative principles that are worth fighting for. Horowitz has given powerful blows to liberalism (socialism) and boosted the conservative movement — bolstering the values that made this great nation a largely benevolent superpower.
I recommend Mortality and Faith: Reflections on a Journey through Time to all conservatives as well as liberals, and particularly to "independents" and fence sitters — to all Americans who should be analyzing their own minds and their own lives by asking themselves what they should be doing not only to preserve this nation from the looming storm of radicalism — a radicalism pursued relentlessly by the left, the Democrat Party, and their allies in the mainstream liberal media — but also examining their own personal lives. Horowitz shows them the way with this insightful sequel to Radical Son — at this very crucial moment in history when destructive socialism is at the very doorstep of America and when many are unable to get off the turntable to savor life.
Reviewed by Dr. Miguel Faria
Miguel A. Faria, M.D. is an Associate Editor in Chief in socioeconomics, politics, medicine, and world affairs of Surgical Neurology International (SNI). He is the author of the upcoming book, America, Guns, and Freedom: A Journey Into Politics and the Public Health & Gun Control Movements (2019).
This book review may be cited as: Faria MA. David Horowitz: An examined & exemplary life that has been worth living — A book review by Miguel A. Faria, M.D. HaciendaPublishing.com, June 12, 2019. Available from: https://haciendapublishing.com/david-horowitz-an-examined-exemplary-life-that-has-been-worth-living-a-book-review-by-miguel-a-faria-md/
Copyright ©2019 Miguel A. Faria, Jr., M.D.