It seems the problem with wild hogs persists despite my previous analysis and advice. Since this is a topic I seem inclined to write about, let's revisit it. A recent article in The Advocate, a Baton Rouge newspaper, laments "a booming wild hog population." The article went on to explain Louisiana lawmakers are considering drastic legislation: "A state House committee on Thursday approved legislation that would make it illegal to transport feral swine. Those found guilty of the infraction would face fines of up to $900 or up to six months in prison, if the measure makes it into law. It now heads to the House floor for consideration." Republican state representative Kirk Talbot was quoting as saying, "people trap wild hogs, keep them alive and then let them loose in other locations." He added, "That's how they spread so quickly."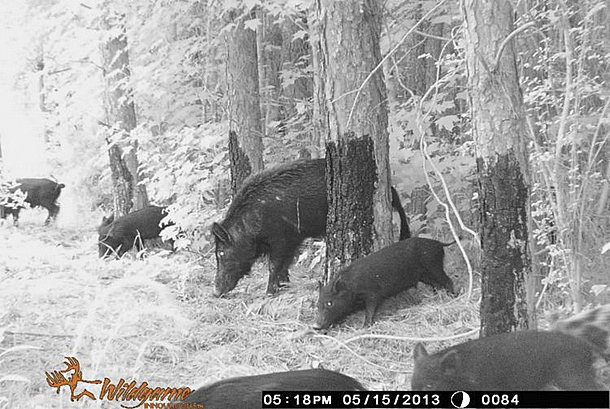 Actually feral hogs will spread like wild fire unless they are trapped or hunted and turned into barbecue. At least that is what we have done in Taylor County and other counties throughout Georgia. But not everybody agrees that trapping and hunting are successful. The last time I wrote on this topic I responded to a Georgia state representative and noted attorney in a local newspaper. He had argued to that effect and seemed to suggest the need for government intervention to eradicate the hogs.
I now repeat my article nearly verbatim, apologizing to those who have read it, and hoping that those who read or reread it learn something about feral hogs as well as human nature.
Perry attorney Larry Walker had penned an interesting article on wild hogs and described their increasing destruction of flora, fauna, and property — a scourge and a serious concern to citizens in more than 40 states. He cited corroborative evidence from the University of Georgia (UGA). Wild hogs, as I have written elsewhere, are indeed a growing problem.
After citing disheartening statistics about wild hog damage, Walker further opined, "…trapping is difficult, if done properly, and shooting is not very effective." I ask: Are there any challenging tasks or arduous sports worth pursuing that are not difficult?
While trapping feral hogs is vastly superior, hunting them is not impossible, and the sport is not devoid of value and excitement: The hog population can be culled, or at least the sounders can be forced out of valuable pasture and agricultural land and chased to more natural habitats in swamps and low-lying brush by hunting and trapping by private sportsmen (or farmers can invite hunters with dogs to do so). There is no need to bring more government agencies to do a job that we can do as private citizens. A story, that took place along the banks of the Ocmulgee River, "Whose bread I eat, his song I must sing," told by the late Dr. J.G. McDaniel of Fulton County, illustrates the story, conveying meanings on several levels:
"Years ago in the great Horse-Shoe Bend down the river, there lived a drove of wild hogs. Where they came from no one knew, but they survived floods, fire, freezes, droughts and hunters. The greatest compliment a man could pay to a dog was to say that it had fought the hogs in Horse-Shoe Bend and returned alive… Finally a one-gallused man came by the country store on the river road and asked the whereabouts of these wild hogs. He drove a one-horse wagon, had an ax, some quilts, a lantern, some corn, and a single barrel shotgun. He was a slender, slow moving patient man — he chewed his tobacco deliberately and spat very seldom.
"Several months later he came back to the same store and asked for help to bring out the wild hogs…he had them all in a pen over in the swamp. Bewildered farmers, dubious hunters, and storekeepers all gathered in the heart of Horse-Shoe Bend to view the captive hogs. 'It was all very simple,' said the one-gallused man, 'First I put some corn. For three weeks they would not eat it. Then some of the young grabbed an ear and ran off in the thicket. Soon they were all eating it; then I commenced building a pen around the corn, a little higher each day. When I noticed that they were all waiting for me to bring the corn and had stopped grubbing for acorns and roots. I built the trap door. Naturally,' said the patient man, 'they raised quite a ruckus when they seen they was trapped, but I can pen any animal on the face of this earth if I can jist get him to depend on me for a free-handout.' "
The lesson here is that wild hogs, like men, can be trapped if they can be made dependent on free-handouts! And so it was that by baiting large sturdily constructed traps with corn, we trapped ferocious wild hogs at the farms of our friends in Taylor County, and ended there the deprivations of crops, sod and hay farms caused by these animals over the years. Other hunters nearby used dogs (we didn't). The hogs have not come back in force for several years! But we are ready for them if they return! It is open season for feral hogs in Georgia year round.
As a result of the hog hunts, we have had sausages, pork chops, and ribs in our freezer. Farmers are frequently willing to allow hunters to hunt wild hogs on their property, and pork can also be donated to the needy. It is the most consumed meat in the world. (Wild hog is lower in fat than regular pork.) My friend and butcher, Ernest Thomas of Bolingbroke, does a magnificent job of preparing the meat with our favorite cuts. My freezer is depleted; not only have we consumed a lot of venison and pork in the last few years, but we have even taken some to my family in Miami.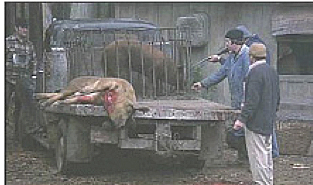 Normally there is no need to bring any government agencies to do a job that citizens can do for themselves as conscientious hunters and trappers. But if the people of Louisiana are catching and illegally releasing wild hogs in public lands, or worse, violating private property rights and dumping them in other people's property, it is understandable the state has to step in and stop the practice. But why do this? 
Louisianans should know what to do with hogs. If in need of instruction, they should watch the excellent film, Southern Comfort (1981), starring Keith Carradine and the late Powers Boothe.
A note of caution: Wild hogs can be ferocious and should be handled carefully dead or alive. The hogs should also be processed by experts with special gloves and the meat cooked thoroughly to prevent contracting diseases, such as trichinosis or salmonellosis (the latter can also be contracted from poultry), as should be done with all wild animals.
So instructed, Louisiana citizens need to turn this problem into an opportunity, while respecting the land of their neighbors, the environment, and exploiting a natural resource that sorely needs exploiting!
Written by Dr. Miguel Faria
Miguel A. Faria, M.D., Associate Editor in Chief in socioeconomics, politics, medicine, and world affairs of Surgical Neurology International (SNI). He was appointed and served at the behest of President George W. Bush as member of the Injury Research Grant Review Committee of the Centers for Disease Control and Prevention (CDC), 2002-2005. His website is https://HaciendaPublishing.com.
This article may be cited as: Faria MA. Wild hogs (revisited) in Louisiana — Catch and release operations? HaciendaPublishing.com, March 30, 2018. Available from:  https://haciendapublishing.com/wild-hogs-revisited-in-louisiana–catch-and-release-operations-by-miguel-a-faria-md.
Copyright ©2018 Miguel A. Faria, Jr., M.D.