In Stalin: The Court of the Red Tsar (2003), Simon Sebag Monefiore provides us with a galvanizing portrait of Joseph Stalin "as human and complicated as he is brutal" and chronicles the lives of the notorious henchmen who entered the court of the Red Tsar.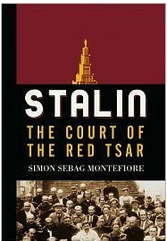 Among the many atrocious incidents cited in the book, there is one that stands out and that is the Katyn Forest massacre, how Stalin dealt with the order and his henchmen to hush up the atrocity, and more graphically, how it was done by the NKVD secret police so as to blame the Germans and wipe out the future intellectual elite of the Polish nation. By eliminating the officers (and reserve officers), who in their civilian functions were mostly professionals—the elite members of Polish society—the Soviets would decapitate the Poles of their leaders and easily subdue them.
As to how the shooting was actually done, a Soviet NKVD officer, Vasili Mikhailovich Blokhin, describes how he went down to the Ostachkov Camp where he and two other fellow officers "outfitted a hut with padded, soundproof walls and decided on a Stakhanovite quota of 250 shootings a night." In this fashion, he and his fellow Chekists executed 7,000 Polish officers "in precisely 28 nights using a German Walther pistol to prevent future exposure." Of the 22,000 Polish officers executed, 4,500 were interred in the Katyn Forest. The man who personally executed over 7,000 people in 28 days, and how he carried out his work, one at a time is, indeed, a gruesome story! — Dr. Miguel A. Faria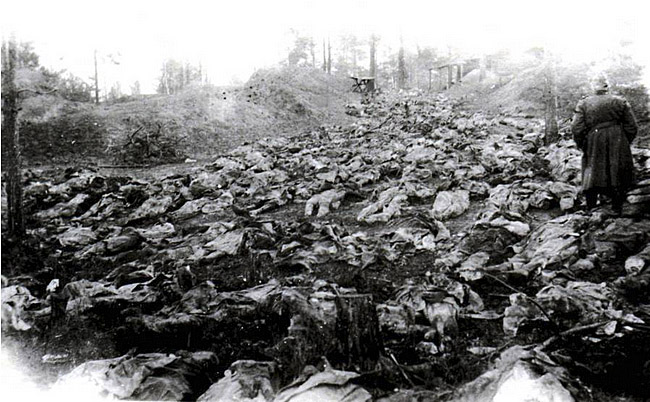 Your commentary on the Katyn massacre was excellent, as always. I learned several interesting aspects about it I was not aware of, but pertinent to this conversation is the chief executioner Vasili Mikhailovich Blokhin (1895-1955), who set the "Stakhanovite" quota for the killing of the Polish officers, as you mentioned. The calculations indicate Blokhin killed one Polish officer every three minutes with a shot to the back of the head.
For technical reasons, he brought his own German Walther pistols to carry out the job, but I am not clear what he used back home in Russia to dispose of those convicted during the great purges of 1936-1937. Also, it was thought best that if the corpses were found, the deaths could be linked to German bullets.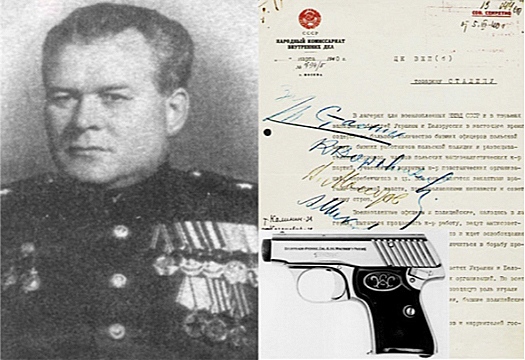 Blokhin is believed to have been the man who shot Yagoda and Yezhov, as well as most of the prominent old Bolsheviks who were convicted by Judge V.V. Ulrich and tried by Stalin's greasy prosecutor Andrei Vyshinksy. Those would include G. Zinoviev and L. Kamenev. So as I had mentioned some time ago, I enjoyed the movie Stalin (1992), starring Robert Duvall, immensely, but I said Beria kept popping up in odd places where he should not have been historically. I meant particularly when he is seen performing the executions Blokhin had actually done.
Now, given that (as I also said previously) the Katyn skulls all show exit woulds with multiple fractures, we can reasonably assume the bullets did exit Kamenev's and Zinoviev's heads if we can determine whether Blokhin preferred his private Walther pistols in Moscow, or used the standard Soviet issued TT-30s. I would find this an interesting little exercise. Blokhin didn't fool the Nazis with his German bullets at Katyn, but if you check out some modern Marxist websites mentioning Katyn, he still has them fooled! They are still absolving Stalin because they want to know if he did it, why were German bullets and casings found at the scene? These people are as stupid as Holocaust deniers, but not vilified as much. — Dr. Adam Bogart
Written by Dr. Miguel A. Faria and Dr. Adam Bogart
Miguel A. Faria, M.D., is Associate Editor in Chief in neuropsychiatry; history of medicine; and socioeconomics, politics, and world affairs of Surgical Neurology International (SNI). Clinical Professor of Surgery (Neurosurgery, ret.) and Adjunct Professor of Medical History (ret.) Mercer University School of Medicine. He is the author of several books including Cuba in Revolution: Escape From a Lost Paradise (2002), and America, Guns, and Freedom: A Journey Into Politics and the Public Health & Gun Control Movements (2019). His most recent book is Controversies in Medicine and Neuroscience: Through the Prism of Medical History, Neurobiology, and Bioethics (2023) published by Cambridge Scholars Publishing in Newcastle upon Tyne, England.
Adam Bogart, PhD, is a Behavioral Neuroscientist at the Sanders Brown Center for Aging University of Kentucky, Lexington, KY. Behavioral Neuroscience Kent State University Kent, OH. Post doctoral fellow at the Albert Einstein College of Medicine, Gruss Magnetic Resonance Research Center Bronx, NY. MS Immunology conjointly Adelphi University/Mount Sinai Medical Center New York City, NY.
This article may be cited as: Faria M.A., Bogart A. The Mass Executioner: NKVD Officer Vasily Mikhailovich Blokhin! HaciendaPublishing.com, March 25, 2023. Available at: https://haciendapublishing.com/the-mass-executioner-nkvd-officer-vasily-mikhailovich-blokhin-by-miguel-a-faria-jr–md-and-adam-r-bogart-phd/
Copyright ©2023 HaciendaPublishing.com