Dr. Miguel Faria is very proud of his adopted the United States of America. He's equally as proud to have received the Americanism medal and certificate from the Daughters of the American Revolution last month.
Faria, a native of Cuba, moved to Macon in 1983 after completing his training in neurosurgery at Emory University Hospital in Atlanta. He moved to Macon to work as a neurosurgeon at Coliseum Medical Centers. When he came to interview at the hospital, Faria said he saw a bumper sticker on a car that read, "Freedom with Responsibility." Then he saw the same sticker on another car. That was a sign to him that Macon was the place he should be, he said.
Faria is a noted neurosurgeon who edits journals, publishes and is the author of two books, Vandals at the Gates of Medicine and Medical Warrior. However, it was his devotion to community service — and particularly his love of American history — that caught the attention of the DAR.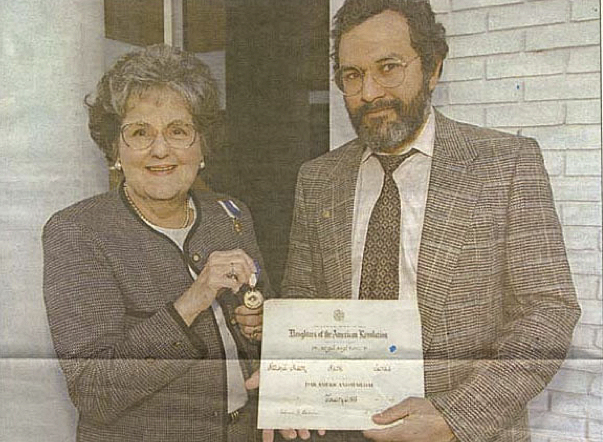 The organization contacted Faria after hearing him on a radio show said Anne McKinley, regent of the Nathaniel Macon Chapter of the DAR and state chairman of the Americanism committee. He was invited to speak to the local group last October, and they were very impressed. After his speaking engagement, the chapter started looking for someone to honor: "We found out the things he'd done since being in this country," McKinley said. He became the likely choice for the medal.
Faria said he believes "When you come to a community, you ought to leave it better than when you got there."
Once Faria was chosen as the winner, it had to be kept quiet. The medal would be the first presented by the Macon chapter. McKinley and Faria's wife, Helen, kept it secret until the last minute. "I almost went fishing," Faria laughed.
When he received the medal, Faria said he was overwhelmed. "I wasn't sure I was deserving of such an honor," he said. He admires the DAR because it defends the principles on which the nation stands.
When Faria talks about the United States, he speaks very passionately. As a native of Cuba, Faria said he has lived in a communist country where citizens have no rights, liberties or constitutional protections. He came to the United States at the age of 13 in 1966.
"I see our country in fact evolving into a socialist democracy," Faria said. That's partly because government has a tendency to usurp power. Faria repeated a Cuban saying, first in Spanish, then English that says, "Shrimp that fall asleep are taken away with the current." "I'm afraid if we don't awaken, we will lose our country."
Faria said he also is disheartened that children are not being informed about the country's Founding Fathers. The physician spends a lot of time with his own children — ages 11, 7 and 1 — teaching them about American history. Despite his busy schedule, Faria said he will make himself available to talk to classes about this country's founders. "They put their lives, fortunes and sacred honors on the line."
Stephanie Jordan Johnson, Reporter, The Macon Telegraph