A small but explosive book was recently published by a Macon, Georgia, author that deserves close perusal not only in Middle Georgia but all of America. The book is Land Grab: How Our Country Can Grab Your Land Without Paying a Fair Price (2014) by Alan H. Preston, who like his brother, uncle, and father, has a degree in Forestry (from the University of Georgia).  His parents, Druid and Carol Preston, have been our good friends and neighbors in Macon for nearly 30 years.
In the first part of his book, Alan recounts the poignant story of how his grandfather, Abb Preston, after working and improving his land in west Georgia for many years, lost sizeable tracts of property to the federal government during the expansion of Fort Benning in 1941. Abb was a patriotic citizen and did not question the need for expansion of the military base just before the onset of World War II. What shocked him and his young sons, Druid and Richard, was the way they were treated and the forceful taking of Abb's property without fair and just compensation in violation of the Fifth Amendment to the U.S. Constitution. I prefer to let the readers find out for themselves the disturbing details of this story by reading Alan's eloquent book.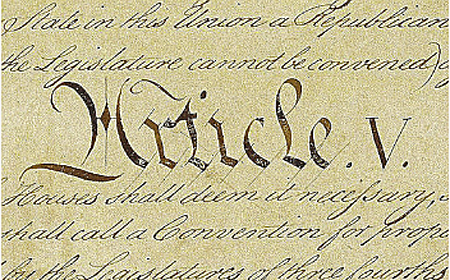 Amendment V of the U.S. constitution reads:
…nor shall be compelled in any criminal case to be a witness against himself, nor be deprived of life, liberty, or property, without due process of law; nor shall private property be taken for public use, without just compensation.
The second part of the book begins by narrating the story of Bob L. Mullis, who was the feisty grandfather of Alan's wife Margaret (Margo), who successfully fought the Macon City Council against take over of his property and kept his Saf-T-Oil business in Macon in 1986. This story serves as a launching pad for Alan to describe his research of how eminent domain and environmentalism have been abused throughout the United States, not only by the federal government, but particularly municipal governments to seize the lawful property of citizens in violation of private property rights, essential prerogatives of free citizens in preserving their liberty and pursuing happiness. The taking clause of the Fifth Amendment has been abused to seize property not only without just compensation but also for the wrong reasons. Not only timberland and beachfront owners have lost their property but also humble citizens have lost their homes by private developers in cahoots with local city councils, who covet well-situated real estate and increased tax revenues, respectively. Alan not only exposes these abuses but also reveals sources of assistance to victimized property owners and proposes solutions based on his research as well as his father's property and forestry experience. Get his book (available at the Golden Bough bookstore in downtown Macon) and read it!
Written by: Dr. Miguel Faria
Miguel A. Faria, Jr., M.D. is Clinical Professor of Surgery (Neurosurgery, ret.) and Adjunct Professor of Medical History (ret.) Mercer University School of Medicine. He is an Associate Editor in Chief and a World Affairs Editor of Surgical Neurology International (SNI), and an Ex-member of the Injury Research Grant Review Committee of the Centers for Disease Control and Prevention (CDC). 2002-05; Former Editor-in-Chief of the Medical Sentinel (1996-2002), Editor Emeritus, the Association of American Physicians and Surgeons (AAPS); Author, Vandals at the Gates of Medicine (1995); Medical Warrior: Fighting Corporate Socialized Medicine (1997); and Cuba in Revolution: Escape From a Lost Paradise (2002).
This article may be cited as: Faria MA. Land Grab by the government — A growing problem. HaciendaPublishing.com, June 27, 2015. Available from: https://haciendapublishing.com/land-grab-by-the-government–a-growing-problem.
This article also appeared in the Macon Telegraph on June 30, 2015.
Copyright ©2015 Miguel A. Faria, Jr., MD