The tragic Elian Gonzalez affair, which has been used so skillfully by the Clinton administration (until the violent pre-dawn raid), will be used, mark my words, for the appeasement of Fidel Castro and for trying to establish normal relations with his brutal communist regime.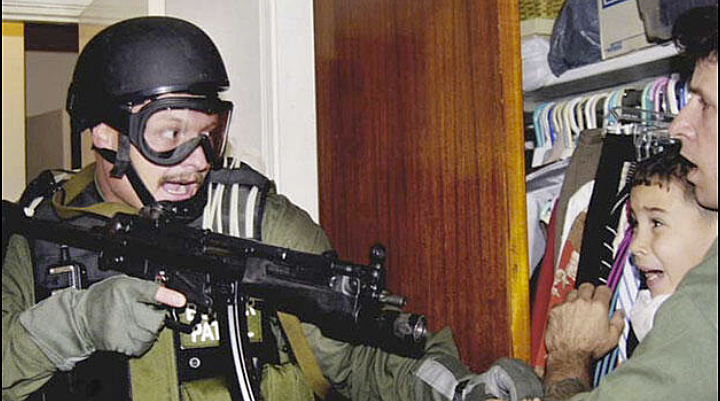 Defending Fidel Castro and his socialist regime ("Socialism or Death") has been a passion for many journalists of the establishment's media since the time of Herbert Matthews of The New York Times. This notorious apologist interviewed Fidel Castro during his days in the Sierra Maestra in the years 1957-1958, when the latter was waging war against the Batista regime, and by romanticizing and glorifying Fidel and his band of barbudos, Matthews paved the road to tyranny in Cuba.
To many of us it is obvious why President Clinton would want normalization of relations with Cuba. Besides his ideological affinity with Cuban socialism, Clinton would transform overnight his legacy from improper relations with "that woman, Monica Lewinsky" (as well as Paula Jones and all the other women he has victimized) to that of being the president who normalized relations with Cuba.
After all, President Richard Nixon's legacy was at least partially rehabilitated for opening up Red China. Today trade with the Red Chinese is supposedly being used as a geopolitical tool to bring China into "the community of nations," the World Trade Organization, and to allow a smooth transition to "economic and political freedom." President Nixon has been given considerable credit for this development. Why couldn't Slick Willie do better?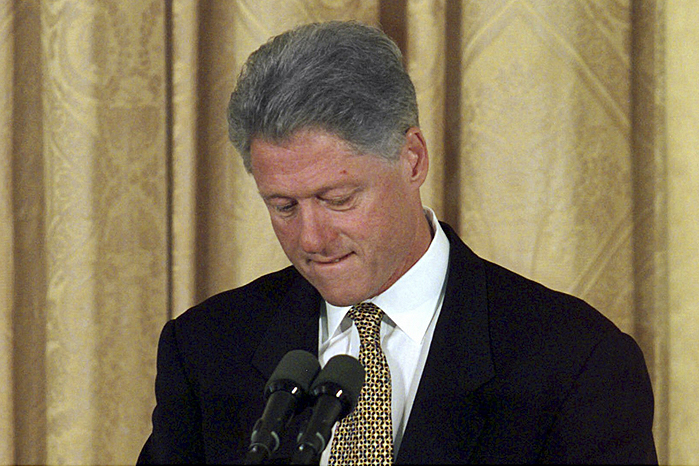 Yes, Bill Clinton would do even better than Richard Nixon did. Clinton may have been the first elected U.S. president to be impeached by the House of Representatives for high crimes and misdemeanors, but that could be forgotten with a new legacy.
Normalization of relations with Cuba could catapult him from that embarrassing historical notoriety to, perhaps, becoming the first American elected secretary general of the United Nations (traitor Alger Hiss was only president of the U.N. founding conference in 1945), or he could be the second U.S. president nominated for the Nobel Peace Prize — i.e., for making peace with a dictatorship with which we have been at political war for more than 40 years!
But even if Bill Clinton's reasons were purely ideological and not political, it isn't as easy to discern why seemingly divergent groups of Americans, influential Americans, are militating so stridently for normalization of relations with the communist regime.
Among these divergent groups, we find the establishment elite, the captains of industry of the giant corporations who salivate at the thought of the profits they may realize by opening trade with Cuba – among them, Citicorp, the banking and financial behemoth, and Archer Daniels Midland (ADM), the giant agricultural business, which has been leading the pack for the last six years.
There are others, but ADM has been at the forefront. Dwayne O. Andreas, its chairman and CEO, has long been an advocate of lifting the Cuban embargo. More recently, he has been identified as being "the financial angel" in funding the much-publicized grandmothers' visit to Elián. And Charley Reese in the Orlando Sentinel (April 23) reveals that Mr. Andreas has already extensive commercial interests in Cuba, some of which may involve exploitation of Cuban workers.
Clinton's impeachment attorney and now Juan Miguel González's counsel, Gregory B. Craig (commanding an $800-an-hour fee paid by the Methodist Church), belongs to the law firm that represents ADM as a client. Asked specifically about Cuban political repression, the fact a half million Cubans have passed through Fidel's political prisons since 1959 (according to Freedom House), and Castro's overall shameful human rights record, Andreas replied that he "didn't think about them" in his conversation with Fidel, according to a Reader's Digest article, "Fawning over Fidel" (May 1996), by veteran reporter Trevor Armbrister.
As to the accumulating evidence of Fidel's political executions? "That is for the politicians to worry about," replies Andreas. Obviously, for these corporations, profits come ahead of freedom. The irony is that without freedom they would also lose their profits – as well as their liberties!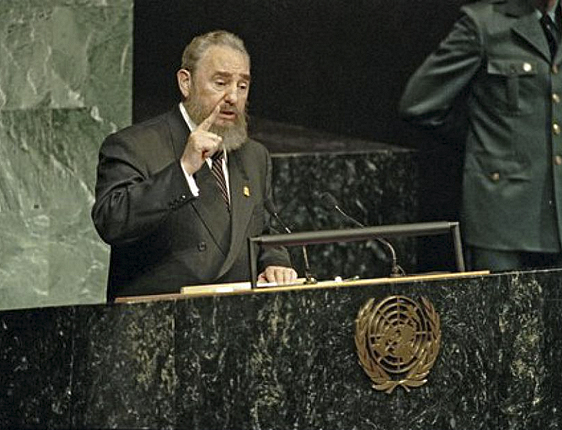 In 1995, Castro visited the U.S. to address the U.N. during its 50th anniversary celebration. It was a visit that was quite telling, as divergent groups came out to embrace him and sing his praises. He was the honored guest at the Rockefeller family estate in New York. Yet, because of peaceful but serious protests, the honorific invitation had to be moved to the prestigious Pratt House, the headquarters for the Council of Foreign Relations, on East 68th Street in Manhattan. At that confab, he was met by retired Chase Manhattan Bank Chairman David Rockefeller and a fawning audience of internationalists.
Later, Castro visited and was feted and warmly received by real estate developer and publishing magnate Mortimer Zuckerman and other media moguls and opinion molders such as Barbara Walters, Peter Jennings, Mike Wallace and scores of other media personalities. Castro called them "the cream of the crop" and in return got a big hug and kiss from Diane Sawyer, the most beautiful of them all.
And finally, during that visit, he was also honored at Harlem's Abyssinian Baptist Church. There, he was proudly surrounded by U.S. Reps. Nydia M. Velazquez, Charles Rangel and Jose Serrano – all New York Democrats and all members of the extreme left-wing House Progressive Caucus. They are among the 58 U.S. representatives who belong to this group closely aligned to the Democratic Socialists of America, the U.S. affiliate of the Socialist Internationale, the proud heirs of the first Internationale in which Karl Marx participated over a century ago.
All the members of the Progressive Caucus are Democrats, except for Bernie Sanders, I-Vt., who makes no pretenses and is a self-avowed socialist. Interestingly, some of these leaders, particularly some of those who are also members of the Black Caucus, have blamed the CIA for pouring drugs in the streets of L.A. and other cities and killing black youth. Yet, they embrace Castro and his brother, Cuban Defense Minister Raul Castro, who has been implicated for using drugs as an instrument of war against the U.S., as documented by Dr. Joseph Douglass in his book, Red Cocaine. In 1993, a federal court in Miami indicted Raul Castro for drug trafficking. Neither Attorney General Janet Reno nor the Black Caucus has asked for his extradition.
In Harlem, Castro was cheered and applauded by the roaring crowd yelling, "Fidel, Fidel, Viva Cuba, Viva Cuba!" He was warmly bear-hugged by Rep. Charles Rangel and told by the presiding church minister that he was one of the greatest leaders of the world and that they joined him in opposing the U.S. blockade. Then the noted cleric consecrated Castro: "God bless you," he said, although Castro is an atheist and Cuba officially is an atheist state where the faithful are persecuted.
To this topsy-turvy insanity, my understanding for this admiration for Castro and his regime can only come from Scripture in Romans 1:22-25: "Professing to be wise, they became fools who exchanged the truth of God for the lie, and worshiped and served the creature rather than the Creator."
Miguel A. Faria, Jr., M.D., is an Associate Editor-in-Chief and a World Affairs Editor of Surgical Neurology International (SNI;  http://www.surgicalneurologyinternational.com); Clinical Professor of Surgery (Neurosurgery, ret.) and Adjunct Professor of Medical History (ret.) Mercer University School of Medicine. He served under President George W. Bush as member of the Injury Research Grant Review Committee of the Centers for Disease Control and Prevention (CDC; 2002-05); Realclearhistory Author (2012-present); Founder & Editor-in-Chief of the Medical Sentinel (1996-2002); Editor Emeritus; Author, Vandals at the Gates of Medicine (1995), Medical Warrior: Fighting Corporate Socialized Medicine (1997), and Cuba in Revolution: Escape From a Lost Paradise (2002). His website is https://HaciendaPublishing.com.
This article may be cited as: Faria MA. In Bed with Castro. Newsmax Media, June 6, 2000. Available from: https://haciendapublishing.com/in-bed-with-castro
Copyright ©2000-2015 Miguel A. Faria, Jr., M.D.