While the House of Representatives were using fifteen ballots to elect Congressman Kevin McCarthy (R-CA) as Speaker, some Republican politicians and commentators grew impatient. Their anger was directed at the twenty Freedom Caucus members who refused to immediately support McCarthy for House Speaker.
The criticism flowed from the usual suspects in the Democratic Party, but also from conservatives in the media and elected Republicans. In fact, former House Speaker Newt Gingrich, and Congressman Dan Crenshaw (R-TX), called these twenty conservative Republicans, "terrorists."
Anger almost turned into punches for Congressman Mike Rogers (R-AL). He was so upset at the leader of the holdouts, Congressman Matt Gaetz (R-FL), that he had to be restrained from launching a physical attack at his colleague.
This anger stemmed from the viewpoint that it was proper etiquette to quickly elect McCarthy as House Speaker so the members could be officially sworn in as U.S. Representatives. The critics were incensed that these rebels were not accepting "reality" and allowing the normal course of business to commence.
Thankfully, the rebels stood firm through all the ballots. They realized this is not a time for business as usual in Congress. By forcing concessions from McCarthy, the Freedom Caucus members achieved some significant victories. Here is just a partial list of the victories won by these courageous conservatives:
Adding House Freedom Caucus members on key committees.
New committee to investigate the "weaponization" of government agencies.
Agencies will include the Federal Bureau of Investigation (FBI).
Commitments to hold votes on term limits and border security.
Ending COVID funding and mandates.
No budgets that increase the debt ceiling.
Members will have 72 hours to read bills before passage.
Any member can introduce a motion to demand a vote to remove the Speaker.
An open amendment process to allow members to change bills during debate.
According to Congressman Gaetz, "the American people have won" due to these concessions. He also believes that the House of Representatives will become a "healthier institution" due to these changes.
In the view of Congressman Dan Bishop (R-NC), the new investigative committee, modeled after the work done by the late Idaho Senator Frank Church in the 1970's, "is a victory for the Constitutional rights of all Americans." Bishop believes the new committee will be "powerful" and will address the "weaponization of the federal government."
After pledging to enact these reforms, Speaker McCarthy made several incredibly positive moves during his first week in the new position. He reiterated his pledge to remove U.S. Representatives Eric Swalwell (D-CA), Ilhan Omar (D-MN), and Adam Schiff (D-CA) from their respective House committees. This move is in response to Democrats removing Congresswoman Marjorie Taylor Greene (R-GA) and Congressman Paul Gosar (R-AZ) from their committee assignments last year.
This type of political payback is important. For too long, if Democrats controlled the Congress, they treated Republicans horrendously and expected the GOP to never reciprocate when they took power. In the past, Republicans always wanted to be seen as nicer and less spiteful toward their Democratic colleagues. Fortunately, thanks to McCarthy, it seems those days are over.
The first major Republican victory this week was the passage of a bill to strip more than $70 billion for the Internal Revenue Service (IRS). These funds were included in the laughably named "Inflation Reduction Act" of 2022 that enabled the IRS to hire more than 87,000 new agents.
The very legitimate concern of Republicans is that these agents will be targeting hard-working, middle-class Americans, not the uber wealthy. The legislation was championed by Congressman Adrian Smith (R-NE), who noted that the "last thing" Americans need are "more IRS agents knocking on doors to conduct audits, yet this IRS funding is part of the broad Biden administration strategy to tax, audit exponentially more Americans."
While this legislation will not pass the U.S. Senate, which is controlled by Democrats, or be signed into law by President Joe Biden, it is at least a step toward fighting back against the insidious agenda of the Biden administration. It also highlights to the American people the differences between the parties and the commitment of the GOP to follow through on their campaign promises.
One item which Speaker McCarthy does not need approval from Senate Democrats to accomplish is to release the 14,000 hours of security video footage from January 6, 2021. Fortunately, last week, he pledged to release this footage as a way of providing full transparency to the American people. Surely, it will uncover more Deep State lies and provide more understanding of the role of federal government agents on that day.
Last week, the House of Representatives also passed a bill establishing a committee to investigate "strategic competition" with communist China, as well as a resolution condemning violence at pro-life centers, which also forces healthcare providers to provide the "proper degree of care" to babies that survive abortions.
The positive steps of this first week are being well received by Republicans throughout the country. In a new survey, conducted by the Economist/You-Gov, 59% of Republicans support the election of Speaker McCarthy.
All this positive news occurred because of the tenacity of the twenty Freedom Caucus members who forged the agreement with McCarthy. It signaled to the Republicans across the country that the House of Representatives were finally going to accomplish significant goals.
In the past, after big Republican midterm victories, the U.S. House would give lip service to the conservative agenda before returning to business as usual in Congress.
This time it must be different, for the base of the Republican Party is extremely frustrated and their patience is wearing very thin. The stakes for the country are also remarkably high.
After two horrible years of President Biden, the United States faces a series of critical problems that demand immediate attention. The time for business as usual is over. The twenty GOP rebels understood the crisis we face and took action to demand change. These are not "terrorists," instead they are heroes.
Written by Jeff Crouere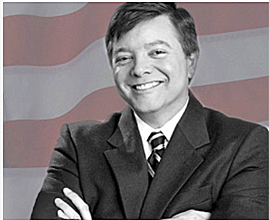 Jeff Crouere is a native New Orleanian and his award-winning program, "Ringside Politics," airs Saturdays from Noon until 1 p.m. CT nationally on Real America's Voice TV Network & AmericasVoice.News and weekdays from 7-11 a.m. CT on WGSO 990-AM & Wgso.com. He is a political columnist, the author of America's Last Chance and provides regular commentaries on the Jeff Crouere YouTube channel and on Crouere.net. For more information, email him at jcrouere@gmail.com.
Copyright ©2023 JeffCrouere.com