Almost two years after the January 6, 2021, Washington D.C. protests that Democrats and the mainstream news media call an "insurrection," the Department of Justice (DOJ) is still asking for the public's help in identifying more people to arrest.
Of the 964 individuals charged with crimes for their participation in the protests of January 6, 2021, "hundreds" are still in Washington D.C. prisons today.
The conditions in these prisons are so horrific that 34 January 6th (J6) prisoners asked for a transfer to the military terrorist prison at Guantanamo Bay, Cuba (Gitmo). In their letter pleading for a transfer, the J6 prisoners said that Gitmo would provide what they are lacking in their D.C. prison, namely "nutritional meals, sunlight exposure, top notch medical care," and respect for "religious requirements."
The harsh treatment of the J6 prisoners is in sharp contrast to the rioters who burned and looted in the aftermath of the death of George Floyd in police custody in Minneapolis, MN on May 25, 2020. These criminals destroyed over $2 billion worth of property, attacked countless police officers and participated in 574 violent riots throughout the country.
Some of the worst violence occurred in Minneapolis, MN, where Floyd died. Rioters either partially or completely destroyed or burned 1,000 buildings. As a result of this violence, 520 misdemeanor citations were issued, but 95% were quickly dismissed. Only 17 individuals were charged with federal crimes related to either arson or rioting.
This kind of minimal prosecution was also displayed in other cities around the country that suffered from the damaging effects of uncontrolled rioting in the summer of 2020.
The same federal law enforcement approach was used last summer. In the aftermath of the Supreme Court decision overturning Roe v. Wade, which returned the issue of abortion to the respective states, leftists were outraged. Radical groups recruited protesters to illegally march outside the homes of Supreme Court Justices.
After weeks of protests and little response from the DOJ, Virginia Governor Glenn Youngkin and Maryland Governor Larry Hogan asked U.S. Attorney General Merrick Garland to "provide adequate resources to keep the Supreme Court justices and their families safe amid ongoing protests at their homes."
While hesitant to act regarding left-wing protesters, Garland is not restrained on the issue of J6 protesters. It is clearly the top priority for the DOJ. For example, one J6 protester, Guy Reffittt, was charged with five felony counts and sentenced to seven years in prison. He did not enter the U.S. Capitol on that day, but he was with protesters on the stairs outside of the building.
His harsh treatment contrasts with the refusal to charge the mysterious Ray Epps, who was seen on multiple videos encouraging members of the crowd to enter the U.S. Capitol. In fact, he was at the barricades outside of the building firing up the protesters. While Epps denies that he was a federal informant, there are many unanswered questions about why he was given preferential treatment.
While Epps has not been charged, federal authorities are still on the hunt for more J6 Trump supporters. According to investigative reporter Julie Kelly, "You have new defendants, new people who have been arrested and charged just this week, including for misdemeanor offenses. They are closing in on a thousand total defendants, and the DOJ has warned that they are going to look for a thousand more. Here we are almost two years later; they are still rounding up Trump supporters, destroying their lives, throwing them in prison and ruining their families."
Of the protesters charged, 465 have pleaded guilty. One person the Democrats, the mainstream media, the Deep State, and establishment Republicans want to add to that list is President Donald Trump.
According to a prominent establishment Republican and a potential 2024 GOP presidential candidate, Arkansas Governor Asa Hutchinson, Trump's J6 crimes are so egregious that he is hereafter disqualified from serving as President of the United States again. He said, "Jan. 6 really disqualifies him for the future. So, we move beyond that, and that is what I want to be focused on."
In 2024, Hutchinson may be a presidential candidate, along with Hogan, Florida Governor Ron DeSantis, former Vice President Mike Pence, and a host of other Republican leaders. Yet, currently, the only announced candidate is Donald Trump.
On January 6, 2021, President Trump did not commit or encourage any violence. He did not lead the charge into the U.S. Capitol and was not even present outside the building.
Prior to the breach of the U.S. Capitol, he told a massive crowd of his supporters to march "over to the Capitol building to peacefully and patriotically make your voices heard."
Despite his calls for non-violence, Trump was impeached by the U.S. House of Representatives for his actions on January 6, 2021. Fortunately, he was later acquitted by the U.S. Senate.
This exoneration did not prevent a U.S. House Select Committee from targeting Trump in their biased activities. The committee was composed of all Democrats and two Never-Trump Republicans. There was never anything close to a fair proceeding in their activities.
In essence, the committee conducted a "Kangaroo Court" by focusing solely on Trump. Their so-called investigations involved ten public hearings, as well as reviewing thousands of documents, conducting hundreds of interviews, and issuing dozens of subpoenas.
Not surprisingly, the committee recommended to the DOJ that Trump be charged with four crimes: conspiracy to defraud the US, conspiracy to make false statements, obstruction of an official proceeding, and inciting an insurrection.
It remains to be seen what the DOJ will do with these charges, but there is already a Special Prosecutor who has been appointed to investigate Trump's role in the J6 protests, along with the documents brought to his Mar-a-Lago home. The unrelenting abuse of President Trump by his enemies is obvious. It must be investigated, along with the horrific treatment of the J6 protesters, by the new GOP leadership in the U.S. House of Representatives.
Written by Jeff Crouere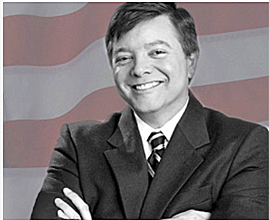 Jeff Crouere is a native New Orleanian and his award-winning program, "Ringside Politics," airs Saturdays from Noon until 1 p.m. CT nationally on Real America's Voice TV Network & AmericasVoice.News and weekdays from 7-11 a.m. CT on WGSO 990-AM & Wgso.com. He is a political columnist, the author of America's Last Chance and provides regular commentaries on the Jeff Crouere YouTube channel and on Crouere.net. For more information, email him at jcrouere@gmail.com
Copyright ©2023 JeffCrouere.com