The story of the leftwing hatred-spewing activist, James Hodgkinson, who shot three people — including the third highest ranking Republican in the U.S. House of Representatives, Congressman Steve Scalise, at a Republican baseball practice for a charity event in Alexandria, Virginia — has understandably overshadowed another tragic incident that began close to home in Baldwin County, Georgia. The episode is worth recounting because there are many lessons to be learned about the misuse of guns in the hands of criminals and the defensive use of guns in the hands of law-abiding citizens.
In the early morning hours of Tuesday, June 13, 2017, two convicts, Donnie Rowe and Ricky Dubose, escaped after subduing, disarming, and then allegedly shooting in cold blood two
guards who were transporting them along with 31 other prisoners in a Baldwin State Prison system bus. The convicts shot dead correctional officers Sgt. Christopher Monica and Sgt. Curtis Billue. Escaping with the guards' 9 mm pistols, the two convicts carjacked a series of vehicles until they reached Madison, Georgia, where they ransacked a home, stole food and clothes, and abandoned their prison uniforms.
According to an AP report, on Tuesday night the convicts seized a Ford pickup truck from a rock quarry a few miles away from the burglarized home and fled. State police, and later the FBI, provided photos of the convicts and implemented a tip line, promising a reward that rapidly climbed to $160,000. According to the Georgia Department of Corrections, "Both escapees were serving sentences for armed robbery and other crimes. The Department of Corrections said Rowe, 43, had been serving life without parole since 2002, and Dubose, 24, began a 20-year sentence in 2015."
After the seizure of the Ford pickup truck, the authorities lost track of the escapees and we heard nothing for nearly 48 hours. Judging the uncertain situation in the neighborhood by the conversations my wife and I had with our postal delivery lady and a landscaping crew next door — citizens in Georgia and later those of surrounding states as well, remained apprehensive but also alert and vigilant. In the South, most of us are familiar with guns and the need for self and family protection.
Then, on Friday morning the police near Shelbyville, Tennessee, "responded to a call about a home invasion, where a couple had been held captive." The captives were an elderly couple, who at gun point the fugitives tied up and then made themselves at home. In the next three hours they ate beef stew, stole more items, and then seized a Jeep Cherokee. The AP report went on to say that the convicts fled in the couple's vehicle and fired on sheriff deputies chasing them about 50 miles southeast of Nashville, Tennessee. The deputies did not return fire. Rowe and Dubose crashed the stolen vehicle and ran into the woods. The stolen guns were later found nearby the crash site. The convicts then approached a house at the end of a long driveway. And here comes the most interesting part: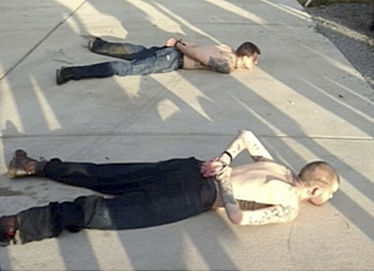 "The [Tennessee State] trooper said the homeowner looked outside and saw the two allegedly trying to steal his car. The man held the two at gunpoint; with a neighbor he called for help until the sheriff's department could get there to arrest the fugitives." The names of the hero and his neighbor (who called police) have not been released, but the fugitives are now in custody.
This Associated Press reporting is highly unusual from the standpoint of the media acknowledging what many of us have known for years — that law-abiding citizens use guns successfully to protect themselves, their families, and their property much more frequently than cited by the press.
Much can be learned from this tragic but illustrative incident: The fact that two dangerous convicts ended up being apprehended by an armed citizen underscores several facts about guns, criminals, and law-abiding citizens:
Hundreds of law enforcement and correctional officers die serving the public each year. Those officers, such as Sgt. Christopher Monica and Sgt. Curtis Billue, who are killed by criminals in the line of duty, should be especially honored, and it is their names that should be remembered, not the murderers. I extend my sincerest condolences to their families, as did Governor Nathan Deal soon after the tragedy.
Criminals, including prison escapees, obtain their guns illegally. By definition criminals do not obey the laws, but they are (and should be) fearful of armed citizens. In a survey of 1,800 prison inmates, "81% agreed that a smart criminal tried to find out if his potential victim is armed; 74% said that burglars avoid houses when people are home because they fear being shot; and 34% admit to having been scared off, shot at, wounded, or even captured by armed citizens."
Professor Gary Kleck of Florida State University has noted, "Citizens acting in self-defense kill about three times more assailants and robbers than do the police." In the United States, the defensive uses of firearms by citizens surpass their criminal uses because many Americans own guns for self and family protection. And contrary to what you are led to believe by mainstream media reporting, firearms are used more frequently by law-abiding citizens to repel crime than by criminals to perpetrate a crime. The majority of murderers are career criminals. The typical murderer has a prior criminal history of at least 6 years with 4 felony arrests in his record before he finally commits murder. 75% of all violent crimes for any locality are committed by 6% of hardened criminals.
These two convicts were serving sentences for violent crimes and armed robbery. Rowe was serving life without parole and Dubose a 20-year sentence — before they killed the two officers while escaping justice. But as the lawful Tennessee rural homeowner showed, the gun is the great equalizer for citizens when encountering hardened criminals and protecting lives and property. And it should not be left unsaid that less than 2% of crimes committed with firearms are carried out by licensed law-abiding citizens.
We should also reiterate that the often-cited study claiming that "persons who keep guns in their home are themselves more likely to be victims of homicide than those who don't," and that "rather than confer protection, guns kept in the home are associated with an increase in the risk of homicide by a family member or intimate acquaintance" — has been thoroughly discredited.
Instead, criminologists have concluded: "The defensive uses of firearms by lawful citizens, at up to 2.5 million per year, dwarf the offensive gun uses by criminals. Between 25 and 75 lives are saved by a gun for every one life lost to a gun, whether by an unintentional shooting, homicide or suicide. Medical costs saved by guns in the hands of law-abiding citizens are 15 times greater than costs incurred by criminal uses of firearms. Gun safety programs for children, particularly the NRA's Eddie Eagle program, have resulted in a steady decline in unintentional injuries over the last several decades."
So then why have firearms become so demonized that some citizens are now subject to a new psychosomatic ailment — namely hoplophobia? Because common crimes with firearms and rampage shootings are sensationalized, and thoroughly and repeatedly reported, while the beneficial aspects and defensive uses of firearms by citizens are seldom if ever reported in the mainstream media. As this tragic but illustrative case shows, criminals do not obey the laws, but they do obey determined and armed citizens, who are protecting their lives and property.
Written by Dr. Miguel Faria
Miguel A. Faria, M.D. is a retired clinical professor of neurosurgery and long time medical editor. He is the author of Vandals at the Gates of Medicine; Medical Warrior: Fighting Corporate Socialized Medicine; and Cuba in Revolution: Escape From a Lost Paradise. His website is https://HaciendaPublishing.com.
This article may be cited as: Faria MA. On escaped convicts, dangerous criminals, and armed citizens. HaciendaPublishing.com, June 16, 2017. Available from: https://haciendapublishing.com/on-escaped-convicts-dangerous-criminals-and-armed-citizens-by-miguel-a-faria-md
Similar versions of this artilce appeared in GOPUSA.com on June 17, 2017 and in Accuracy in Media (AIM) on June 18, 2017.
Copyright ©2017 Miguel A. Faria, Jr., M.D.