Pray the gods for healthy minds in healthy bodies and for a stout heart that does not fear death. — Juvenal
In two previous articles published in Surgical Neurology International and in HaciendaPublishing.com, I discussed the benefit of longevity with quality of life. In the initial article, I countered the arguments made by various utilitarian bioethicists who are actively militating for the rationing of health care for the infirm and the elderly. I pointed out how these bioethicists believe that outright euthanasia, not only for the terminally ill but also for the inconvenient infirm and the superfluous elderly, should be imposed.
In 2014 with the advent of ObamaCare, the need for rationing health services became acute, propounding more ingenious and subtle approaches than those more stridently pushed for in the past.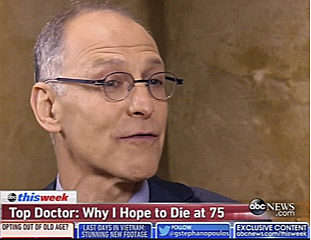 The foremost exponent of the newer and subtler trend in bioethics is Dr. Ezekiel J. Emanuel. Although 57 years of age and in good health, Dr. Emanuel wrote in 2014 in an article in The Atlantic that he hoped and wanted to live only to age 75 and then die. The prominent bioethicist who was instrumental in developing ObamaCare stated that he had lived a fulfilled and a good life and it was time to exit. The elderly needed to make room for the younger population. In his view there was no moral or ethical reason to preserve life after age 75 and in fact beneficial to terminate life at that age to conserve resources.
After age 75, Dr. Emanuel claims life is a downhill spiral and not worth living. I found this preposterous and countered that as we age and mellow and reach retirement, we also achieve satisfaction from a productive life well spent, and we can then begin the contemplation and enjoyment of life that is only possible with the leisure that comes with retirement. Others find joy and satisfaction by continuing to work and lead very active and still productive lives.
While in the first article we dealt with moral and ethical issues, in my second article I discussed the medical and scientific evidence for preserving quality of life — living longer while remaining healthy. In other words, I pointed out that there was life, good life worth living, after age 75 for those who achieved significant longevity with compression of morbidity, and I provided tips for remaining healthy and pursuing happiness in the twilight of our lives.
From the philosophical perspective, I stressed the Aristotelian reasons for leading a long and healthy life for those with a scholarly perspective. For example I wrote:
"The ultimate good life is not necessarily found in our hard-working, intensive, utilitarian, and productive years, but in our years of leisure and contemplation that in today's stressful and fast-moving society can be attained only in our advancing years. One can also spend those years continuing to fulfill the duties of citizenship, improving his/her communities, insisting on better government — e.g., preserving and increasing liberty — for one's children and grandchildren, hoping they live in a better world."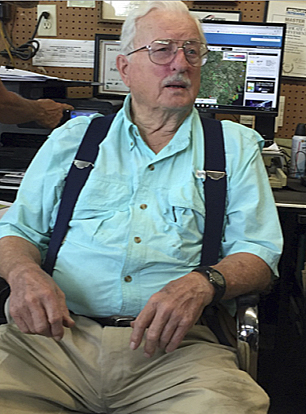 But in this, my third article on the topic, I want to take a step back and admit that "the ultimate good life" can also be reached by leading an active life, not in contemplation, but by continuing to do vigorous, physical work in fulfilling careers and businesses, far into old age — mens sana in corpore sano ("healthy minds in healthy bodies").
A good example of such a continuously happy and productive life has been led by a friend of thirty years. Al Haslam was born on August 21, 1926 in Marshallville, Georgia, a little town about halfway between Americus and Macon on Highway 49. Around 1987 when I met Mr. Haslam, he worked and managed his labor demanding business, Haslam's Marina at Lake Sinclair, Georgia, along with his son Pres (pictured below on right) and their assistant, Darryl Hitchcock, then a young man in his twenties, now 55 years old. More than thirty years later, Al, Pres, and Darryl still work rigorously and long hours, as they have done for all the years I've known them. Pres Haslam, gray-haired but very muscular and athletic at age 63, looks more like someone in his 40s, and as we shall see with his father, he's turning out to be a chip off the old block!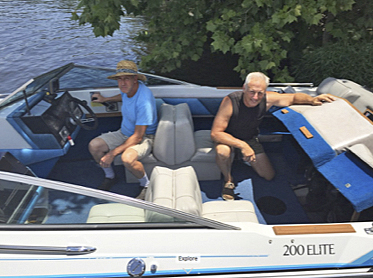 But let's return to Al Haslam. He is 91 years old but one would be hard pressed to believe he is that age, still working at the marina as if he were a much younger man. I had a long conversation with him in which he finally sat down in his chair, answered questions, and mused about the old days. Anyone who comes to him and complains about getting old, Al tells them, "until age 75, you ain't broke in yet." His mother lived to age 99 and his father, who smoked, lived to age 80. Al added, "Everybody smoked in those days, Chesterfields or Camels."
While serving in the Navy in the Philippines "before General MacArthur returned" during World War II, Al drank a few beers but was never a smoker or a drinker. Most of his old buddies from the Navy and the old days are dead now because they did not take care of themselves. They "smoked cigarettes and drank, and only two are still alive." Al is aware that "red wine is good for you" but only occasionally drinks a glass.
About doctors, Al can not praise them enough. Every six months he goes to the VA Hospital in Dublin, Georgia, for a check-up. Again, he has nothing but praise for the doctors there, including his Filipino physician, who always assures Al that she "will take good care of him." He also commends to the sky a little rural facility, Putnam County Hospital, but he personally has had little experience with hospitalization, as his health remains good.
For medications he takes only "two little pills" because about five years ago, he was found to have "slight" or borderline high blood pressure and his doctor put him on it for "preventive" purposes. The same goes for his cholesterol level, which on the laboratory sheet "was found to be slightly off the normal column." His brother went to college, ended up as a farmer, and died 6 years ago, age 90, "worn out" from complications from diabetes. Despite his occupation, Al's brother always preferred working indoors, while Al preferred to work with his hands outdoors. Al follows all his physicians' recommendations, but he has spent countless hours working in the sun, and has had cataract extractions and two small lesions excised from each cheek, likely basal cell carcinomas. He had prostate surgery in 1998.
Al says he watches his diet but despite this he has gained weight over the past 15 to 20 years. His weight, though, does not seem to have slowed him down much, not by the way he gets up and moves around. He has always been and remains active.
In his younger days during the Great Depression, Al loved to hunt and shot his first rabbit at age six and frequently went "possum and coon hunting" with his father, which in his ancestral home area were considered delicacies. His mother also made rabbit dishes that tasted like chicken salad, he remembers fondly. He was delighted to tell anecdotes about his family and the history and geography of central Georgia, although he admits he has never been much of a bookworm. His knowledge comes from experience and hard work.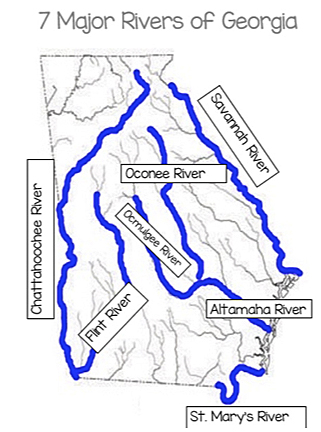 His father was a banker. His grandfather was a farmer, and the area around Marshallville where he grew up as a teenager in the Piedmont plateau, between the great Ocmulgee and the Flint rivers, was and remains an agricultural area where a variety of crops were grown — cotton at one time replaced later by peanuts, sweet potato, peaches, etc. Asparagus was first marketed and produced commercially in the area near his home town of Marshallville.
When Al returned from his tour in the Navy after World War II, his interest seemed to have shifted from oceans to rivers, and the sedentary work he tried did not suit him. Eventually his interest shifted northeasterly to the area around the Oconee River west of Milledgeville.
At that time the area in this portion of the waterway was desolate and referred to as "no man's land." A power plant was planned but the Great Depression had stopped the project, and construction lagged until about 1952. People used the area for grazing and moonshining, but in 1948 a project for building a dam was devised, and Al in astute anticipation began learning the marine business.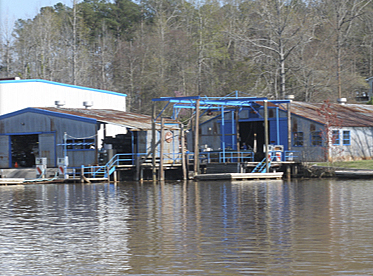 In 1952 he went out on his own and began setting up his marina. The next year, the dam that was being built on the Oconee upstream burst after a flood, and the lake basin, which had already been cleared of debris, was suddenly filled in. From that Friday afternoon to Monday morning the lake was virtually full. And like a Western pioneer of yore Al Haslam and his marina were ready!
No man's land gradually became active as the people began boating and fishing. The largest bass in the state were being caught in Lake Sinclair since the flood waters had naturally seeded the lake with large bass from nearby fish farms. Needless to say, sport (bass) fishing became prominent.
As to the lack of discipline in today's youth, Al reminisces about the days when schools were safe and children were well-behaved. Schools shootings were unheard of and children went fishing and hunting safely. "Children don't know what they are missing today!" His solution is that kids should be disciplined and "kept busy and that keeps them out of trouble." His father was a gentle man but occasionally when Al misbehaved he did not spare the rod but took his time while peeling the peach branch ("the switch") to remind his son how he should have acted instead of misbehaving.
As for adults, they should also keep busy and do constructive things rather than, for example, "playing cards or wasting their time doing nothing." But there was also time for recreation and once a year it was an essential ritual for the entire Haslam family to spend one week deepsea fishing at Panama City Beach, Florida. Unfortunately in the last five years the family has scattered and the ritual became extinguished. He misses it and would be ready to start again, if that was possible.
Al remains physically fit and mentally sharp. When I mentioned the article by Dr. Ezekiel Emanuel's arguing that people should live only up to age 75, he listened, but when he heard that Dr. Emanuel's brother, Rahm, was the mayor of Chicago, Al smiled and interrupted me, "that explains it; in Chicago they don't need to worry about living to age 75; they are too busy shooting each other in the streets." He then added, "Chicago has one of the highest homicide rates in the nation!"
When I asked for his final advice, he paused momentarily then told me: "Never go to bed without planning what you will do tomorrow, then the next day get up and do it!" In closing I should mention that Al was instrumental in bringing about and forming the Meriwether Fire and Rescue Station in 1988, but after 30 years also serving as one of its first volunteers, Al decided to slow down a bit and retire this November. He was in charge of safety and manning the pumps. He still has the farm and the marina to take care of, including fixing my fishing boat that I have just brought in for repairs!
The key to meaningful longevity, then, is to remain physically active, and engage our intellectual faculties. Only then can we expect, mens sana in corpore sano, "healthy minds in healthy bodies." As Ponce de Leon found out there is no fountain of youth but the closest we can come to the concept is via the compression of morbidity — that is, achieving longevity with quality of life until the very end — which can only be reached by leading healthy and active lives.
Written by Dr. Miguel Faria
Miguel A. Faria, M.D. is an Associate Editor in Chief in socioeconomics, politics, medicine, and world affairs of Surgical Neurology International (SNI). He is the author of Vandals at the Gates of Medicine (1995); Medical Warrior: Fighting Corporate Socialized Medicine (1997); and Cuba in Revolution — Escape From a Lost Paradise (2002). His website is https://HaciendaPublishing.com.
This article may be cited as: Faria MA. Longevity by living a healthy and active life. HaciendaPublishing.com, June 16, 2018. Available from: https://haciendapublishing.com/longevity-by-living-a-healthy-and-active-life-by-miguel-a-faria-md/
Copyright ©2018 Miguel A. Faria, Jr., M.D.