In his September 12 column, former mayor C. Jack Ellis remarks, "One might say Ferguson [MO] is a microcosm of Macon [GA] pre-2014, approximately 65 percent of the population is black with a poverty rate of approximately 25 percent. The unemployment rate of young black men hovers around 20 percent. And far too many of its citizens reside in public or subsidized housing." True, but whose fault is it? Opportunity is there for individual achievers; Asians, without "Asian-American" leaders, largely succeed.
African-American leaders (and a well-known Telegraph writer) consistently, while calling repeatedly for "reconciliation, keep making excuses for racial strife; excellence and individual achievement are what they should be promoting. To blame longstanding racial tensions for mob violence in America today is inexcusable. As a Cuban-American, I applaud achievements of Hispanics, but I'm also keen to denounce crime from that quarter when it happens. The truth is we ALL need to cease making excuses.
I stand by what I wrote August 25: The moral high ground of civil rights and injustice are lost, when inexcusable but isolated police incidents are used as pretexts to create mayhem for looting, vandalizing, and robbery.
In 2011 Charles Richardson in an epiphanous moment of clarity elucidated: "Back when we were Negroes in the 1950s, 'only 9 percent of black families with children were headed by a single parent… Black children had a 52 percent chance of living with both their biological parents until age 17.' In 1959, 'only 2 percent of black children were reared in households in which the mother never married.' But now that we're African-Americans… those odds of living with both parents had 'dwindled to a mere 6 percent' … in Bibb County, more than 70 percent of the births in the African-American community are to single mothers."
Richardson went on: "Back when we were Negroes, we didn't have to be convinced that education was the key that opened the lock of success, but now that we're African-Americans, more than 50 percent of our children fail to graduate high school. In Bibb County last year, the system had a dropout rate of 53.4 percent."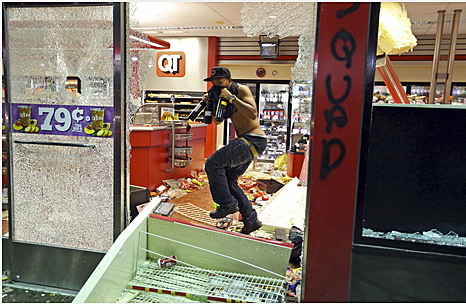 So whose fault is it?
According to the Uniform Crime Report for 2009, "among people 18 or younger, blacks were charged with 58 percent of murder and non-negligent manslaughter, 67 percent of robberies, 42 percent of aggravated assaults and 43 percent of auto thefts. As for murder, more than 90 percent of the time, their victims were black."
Returning to Ellis, "Study after study shows that young black men in the U.S. suffer from wide-spread racism and stereotyping by a large segment of the population." But how is it then, we elected and re-elected an African-American President, a graduate from Harvard Law School in a nation with a majority of white voters!
Frankly, the situation will not improve as long as African-American leaders continue to reopen festering wounds for their own selfish motives, i.e., politics, profit, and sadly, self-aggrandizement. What they should be doing is inspiring young blacks to succeed, to excel as individuals; but no, they reinforce the opposite, the specious idea that despite the progress made in five decades they still cannot succeed because of discrimination and racism.
Yes, injustice, discrimination, and segregation were blots in our nation's history, but what we have had for five decades is opportunity and affirmative action. And what was unfathomable a few years ago, as mentioned previously, a two-term African-American President who proves them wrong. Years earlier, Supreme Court Justice Clarence Thomas should have been embraced as an exemplar of individual achievement, instead he was rejected by the same "leaders" because of political ideology.
Latin America has had its share of problems, poverty, cycles of revolutions and dictatorships, etc., but it has one area where it can teach America, and that is in race relations: genuine reconciliation and acceptance on an equal footing, gained, not by the constantly reopening wounds and race baiting, but by learning to live together as human beings, getting on and moving on, in the course of our brief existence, in the face of inescapable adversity and insurmountable human imperfectability.
Written by Dr. Miguel Faria
Miguel A. Faria Jr., M.D. is associate editor-in-chief and a world affairs editor of Surgical Neurology International and author of Cuba in Revolution: Escape From a Lost Paradise.
This letter to the editor was published in the Macon Telegraph on September 17, 2014.
This article can be cited as Faria MA. Let's not make any more excuses. The Macon Telegraph, September 17, 2014. Available from: https://haciendapublishing.com/lets-not-make-any-more-excuses/.
Copyright ©2014 Miguel A. Faria, Jr., M.D.